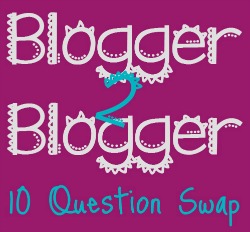 I am so excited to participate in the Blogger 2 Blogger 10 Question Swap hosted by one of my favorite bloggers, Becca from
Southern Mess Moms
!
Each week, two bloggers exchange questions to answer on their own blog. My partner this week is Sarah from
Snow Globe Shaken
, another mom on a fitness journey! I am so glad I got paired with this fun, friendly blogger!
1. Coffee or Tea?
Coffee! I have a Keurig, and I LOVE it. I even wrote 
a letter
 to my favorite coffee shop on my blog. Some people make resolutions to cut back on caffeine; I made a different sort of 
resolution
.
2. Favorite all time Chick Flick?
I am pretty sure I have seen When Harry Met Sally 14,000,000 times. My friend Annie and I watched it from the time we didn't even know what the big restaurant scene was all about.
3. What's your ideal vacation spot?
Jamaica is perfect. The people, the climate, the food. I love everything about it. Plus, we were 
married
 there.
4. How long have you been blogging?
I dabbled in blogging before it was really called blogging, but 
Liv, Laugh, Love began
 in 
June 2012
 as a way for me to chronicle the life of my Liv and showcase my writing. The rest is history, and the best is yet to come.
5. Dogs or Cats?
Dogs. No cats. EVER. My dogs are amazing. We have two rat terriers, 
Dotty and Layla
. Honestly, I think everyone should have a pet before they have kids. I wrote about that topic on 
momaha.com
.
6. Favorite make up item?
I love lip gloss and mineral powder. Those two items and mascara are all I really need, but I love playing with all make-up.
7. Favorite TV Show?
My favorite show lately is Big Bang Theory. I love Penny and Sheldon. Honestly, watching them interact is way more entertaining than the awkwardness with Leonard and the beautiful Penny. I love the storyline though. We tell my stepson he has "Sheldon" moments. The boy cracks me up.
8. Three things you can't live with out?
9. Girly Girl or Tomboy?
I am a bit of both. I love basketball (see above), but I also will take in a 
fashion show 
or a girls' night out! My daughter is the same. She'll cheer for our Jays and play in the mud but wants to wear her dresses, go to dance class, and be a *sigh* princess.
10. What's your idea of the best day ever?
Barefoot, sitting on a beach in Jamaica with my toes in the sand, and a Dirty Banana (drink) in my hand. My kids would be playing in the Caribbean and I wouldn't need to worry about a thing because it's Jamaica, mon.
Realistically, my best days are spent when my stepson is in town and I watch him and his sister play together. The 
age gap
 is significant (12 years), but there are times where I can just feel the love. It's perfection.
Join Blogger 2 Blogger by entering your post in the linkup below!